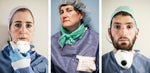 (Photo Credit Alberto Giuliani)
Overuse of masks, heightened stress, endless work hours, gallons of hand sanitizer, increased face washing - all of these symptoms of the new era of COVID.  Our skin is being negatively impacted and especially the skin of our healthcare workers. Most people very rarely, if ever, wore masks prior to the pandemic and now many are wearing them eight or more hours per day and the skin is taking a beating. 
"The increased humidity, friction, and pressure affecting the skin's surface may be detrimental, especially to individuals that already have sensitive skin or deal with skin diseases, like rosacea, seborrheic dermatitis, eczema, or perioral dermatitis. Overwashing the face and the increased friction from PPE may lead to breakdown of the lipid-rich, superficial layer of skin leading to increased water loss and, therefore, increased risk of infection and inflammation/dermatitis." says  Dr. Marcus B. Goodman founder of Goodman Dermatology and a Diplomate of the American Osteopathic Board of Dermatology and a Clinical Associate Professor at Philadelphia College of Osteopathic Medicine – Georgia Campus, Suwanee, GA. 
Dr. Gervaise Gerstner, one of the most respected and sought-after physicians in New York City and a board-certified dermatologist for over 17 years also states: "Healthcare workers are working long, stressful days under occlusive masks. Under these circumstances, the skin can become inflamed. The skin conditions which are most prone to become exacerbated are: 
1) Folliculitis: the beard area on the face when under a mask can sweat more and lead to infections
2) Acne: the raised cortisol levels due to stress, insomnia, and health scares can lead to acne. Hormone disruptions also play into the acne. Fast, easy food which often have  high sugar, gluten, caffeine can also lead to skin inflammation.
3) Atopic dermatitis/Eczema: when skin is exposed to harsh sanitizers and frequent water exposure, atopic dermatitis can worsen. This is especially common with the HANDS....but also many of my patients are developing chelitis and irritation of lips from wearing masks."
We asked our experts how we should deal with our skin under these new circumstances and below are their suggestions.
 Dr. Goodman advises:
1."Prior to applying a protective mask, the face should be clean and an emollient moisturizer should be applied. Moisturized, supple skin optimizes the skin's protective barrier. Masks should be removed every 1-2 hours to avoid ulcers due to skin breakdown on the ears and face and to decrease the amount of time exposed to excess humidity around the nose and mouth.
2. During long shifts, individuals that are experiencing increased acne eruption on the cheeks and chin may want to rinse the face with warm water or utilize a cleansing cloth or micellar water mid-shift; however, harsh soaps and hot water should be avoided. Zinc oxide may also be applied to the areas of the face experiencing irritation due to increased moisture. 
3. Individuals should seek out medical care from a dermatologist if they are experiencing facial discomfort, a persistent rash, or worsening seborrheic dermatitis, rosacea, or perioral dermatitis."
Dr. Gerstner recommends a telederm consult for concerning symptoms and/or use "mild cleansers, acne regimens with ingredients like glycol or salicylic and for hands, Aquaphor and emollients with hyaluronic acid."
These are unprecedented and challenging times. We need to take a moment and make sure our healthcare workers take care of themselves as well as they are taking care of their patients. Their level of dedication is unparalleled and we honor their efforts every day. To further support them, we've put together a special bundle of protective products for them and we'll donate one bundle for every bundle you purchase or for every purchase of $50 or more that you spend on our site. So please help us in supporting them and also let us help you protect your skin. 
They've protected us, let's protect them.